[Notes on Diffy Qs home] [PDF version] [Buy paperback on Amazon]
[next] [prev] [prev-tail] [tail] [up]
1.3

Separable equations

Note: 1 lecture, §1.4 in [EP], §2.2 in [BD]

When a differential equation is of the form
, we can just integrate:
. Unfortunately this method no longer works for the general form of the equation
. Integrating both sides yields
Notice the dependence on
in the integral.
1.3.1

Separable equations

Let us suppose that the equation is separable. That is, let us consider

for some functions
and
. Let us write the equation in the Leibniz notation
Then we rewrite the equation as
Now both sides look like something we can integrate. We obtain
If we can find closed form expressions for these two integrals, we can, perhaps, solve for
.
We should be a little bit more careful with this method. You may be worried that we were integrating in two different variables. We seemed to be doing a different operation to each side. Let us work this method out more rigorously. Take
We rewrite the equation as follows. Note that
is a function of

and so is
!
We integrate both sides with respect to

.
We can use the change of variables formula.
And we are done.
1.3.2

Implicit solutions

It is clear that we might sometimes get stuck even if we can do the integration. For example, take the separable equation

We separate variables,

We integrate to get

or perhaps the easier looking expression (where
)
It is not easy to find the solution explicitly as it is hard to solve for
. We, therefore, leave the solution in this form and call it an implicit solution. It is still easy to check that an implicit solution satisfies the differential equation. In this case, we differentiate with respect to

to get
It is simple to see that the differential equation holds. If you want to compute values for
, you might have to be tricky. For example, you can graph

as a function of
, and then flip your paper. Computers are also good at some of these tricks.
We note that the above equation also has the solution

. The general solution is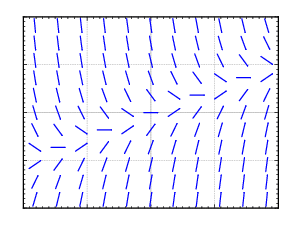 together with
. These outlying solutions such as

are sometimes called singular solutions.
1.3.3

Examples
1.3.4

Exercises